Feet do affect spinal mechanics!!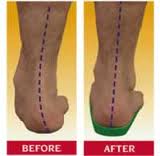 Why are chiropractors interested in feet in relation to spinal conditions?
With over 10 years experience in foot mechanics and 30 years in spinal mechanics,
Dr. Miller understands many spinal conditions are worse when there are mechanical imbalances of the feet.
Corrective foot orthotics can make a big difference in reducing spinal pain for children, teenagers, sports people, adults and seniors.
PLEASE NOTE:
If you wish to be examined for orthotics, when you come in for your appointment please wear solid shoes that support your foot well around the heels.
CLICK HERE TO WATCH OUR CHIROPRACTIC VIDEO NOW!!